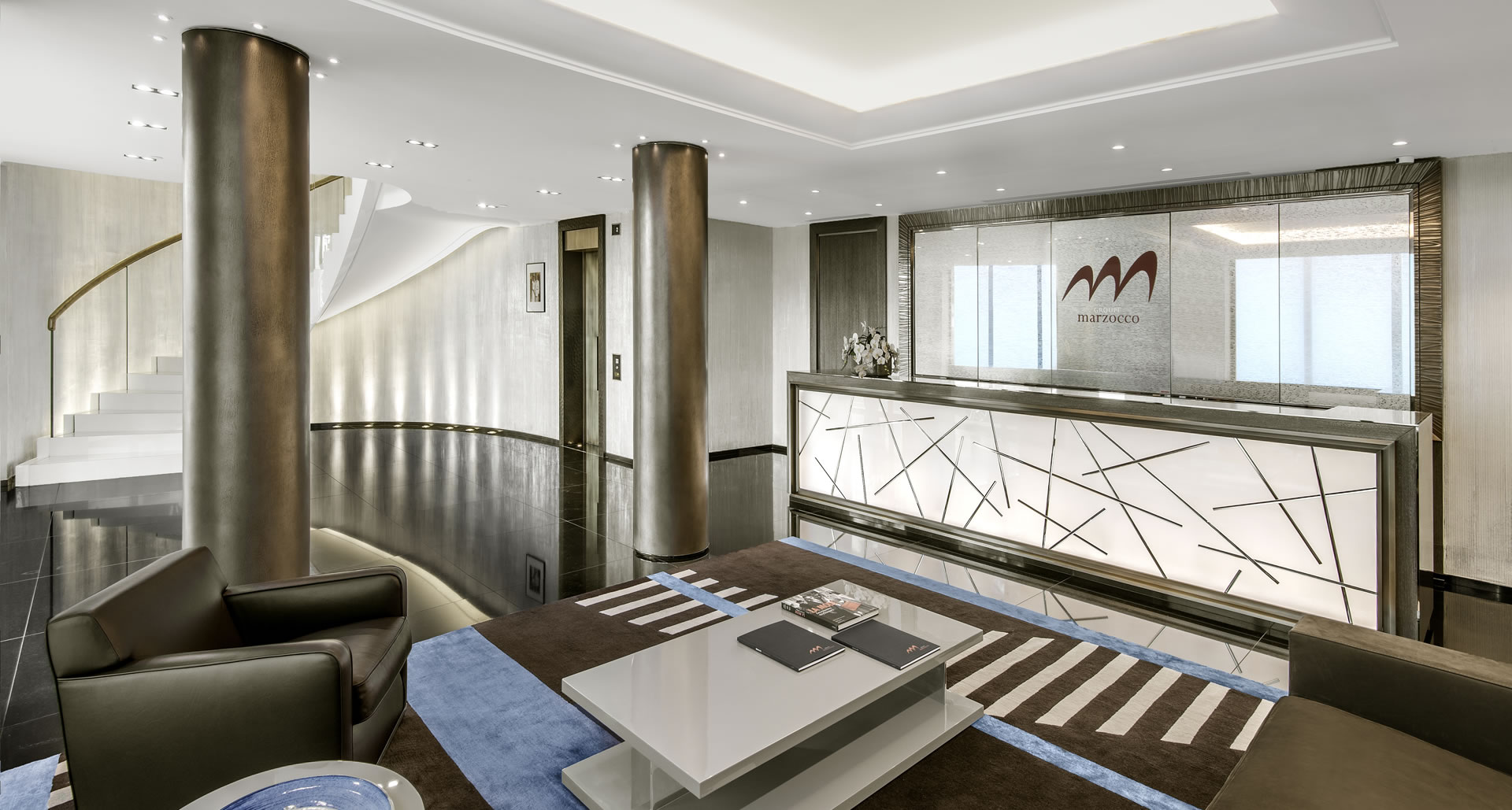 The
Group
Our heritage
Groupe Marzocco is the story of a family. A family passionate about savoir-faire passed down through three generations. At the heart of its success is the desire to see a job well done. Today, the Groupe is 120 people based in the heart of the Principality of Monaco, a company renowned for its remarkable projects in real-estate development, construction and renovation, for both public and private clients.
The Groupe Marzocco story began in the 1960s with Domenico Marzocco, who had founded his construction business back in Italy. A visionary, he moved to Monaco where he began to develop ambitious projects. By the 1990s, his business had become the standard bearer for luxury real estate in the Principality.
Domenico passed his expertise onto his son Claudio Marzocco, as well as his capacity to rise to architectural, aesthetic and technical challenges. Claudio runs the Groupe alongside his brother Luca and his sons and nephews , Daniele, Niccolo' and Domenico. Together, they continue the Groupe's groundbreaking spirit, its taste for exceptional luxury, and its desire to always go further in terms of quality and innovation.
These family foundations have built Groupe Marzocco into a unique company, one that cares about human values and is conscious of teamwork and expertise are vital assets when developing ever more ambitious projects. It is the signature of a Groupe that is today an elite real-estate company playing a part in all the Principality of Monaco's most significant construction projects.
In the 1980s, Groupe Marzocco was behind a number of construction projects on the Italian Riviera, where its expertise was born, and began working on different development projects. These included buildings such as Il Rubino and apartment complexes including Jolanda and Splendid, all in Bordighera, as well as the eight buildings, 114 apartments and 20,000m2 of Portosole in Sanremo. This was also the period that the Groupe began working in Monaco, with, in 1981, the Saint André on Boulevard Suisse, and in 1983, the artistically named Michelangelo, Botticelli and Donatello buildings in Fontvieille. All these buildings embody the attention to detail, desire to innovate, and dedication that are close to the Groupe's heart, and which, over time, have been the foundations of its success.
« From Bordighera in Italy to the Principality of Monaco, Groupe Marzocco is developing by always keeping an eye on excellence. » 
Executive team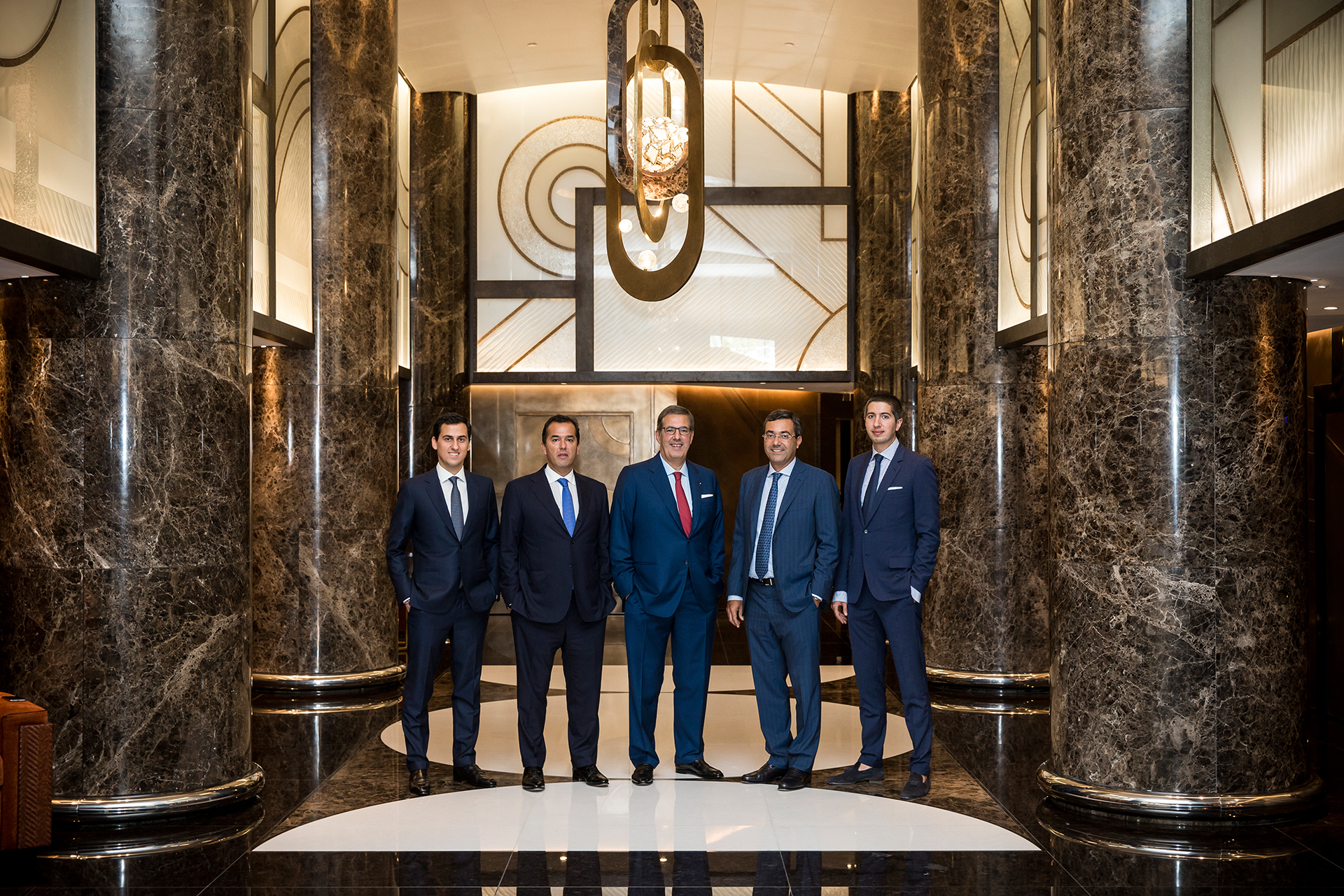 In the center : Claudio Marzocco, Chairman & Managing Director
To his left : luca Marzocco, Managing Director and Niccolò Marzocco, Director
To his right : Daniele Marzocco, Managing Director and Domenico Della Bella, Director

The Groupe Marzocco today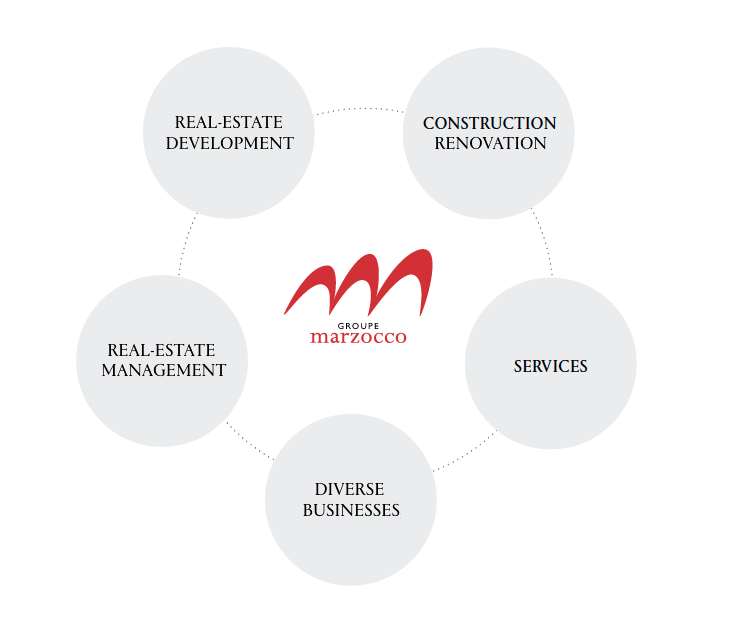 An exceptional know-how for demanding clients
Architectural elegance, harmonious forms, carefully selected noble materials and high-end finishes. The Groupe Marzocco cultivates an eye for luxury and details – for a uniquely recognizable signature.
When real-estate development goes hand in hand with the quest for perfection
Born of a desire to develop prestigious real-estate projects, the Groupe Marzocco is fully committed at every stage of all its projects.
The heart of its business is real-estate development, which requires complete command of a wide range of processes, from the search for and purchase of suitable land to the management of finished projects, as well as surveys, financial arrangements, design, construction and marketing. The Groupe develops specific skills to meet the most demanding norms in terms of earthquake proofing and certified high environmental standards.
Groupe Marzocco's strategy also includes the skills needed to work with expert partners and top specialists in a variety of professions, including architects, engineers, design studios and technical inspectors. In this way, made-to-measure teams support the Groupe on it extraordinary projects.
An eye for luxury and details
The teams at Groupe Marzocco design each interior as if it were for their own future apartment or house.
Thanks to high-end marble, decoration and carpentry, and the use of precious, yet timeless materials, with subtle and delicate colour palettes, interiors are both luxurious and designed to last. They are full of restrained aesthetic choices, ideal for spaces unlike others – ones made to last.
It is an aesthetic that perfectly matches the Principality's clientele. Indeed, it is here, in this exceptional city state, that the Groupe Marzocco has worked on most its projects.
Tailor-made for the Principality of Monaco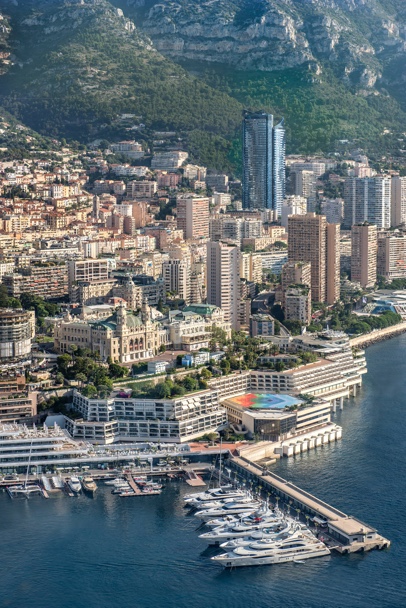 A city state of 38,400 inhabitants and a privileged destination. Politically and fiscally stable, it is also extremely dynamic with a constantly growing GDP. This energy is reflected in its large services sector, its unique tourist attractions, its intense cultural activities, and internationally renowned sporting events such as the Monaco Grand Prix and Monte-Carlo Masters tennis tournament. This vitality is also accompanied by a general feeling of safety, while its geographical position and climate are also major attractions. Nestled into a sublime landscape, the Principality of Monaco is the link between France and Italy, and benefits from Nice Côte d'Azur international airport, which is only 25 minutes away by car and fewer than 10 minutes by helicopter.
Which makes Monaco an extraordinary place, and the reason why it is now home to 123 nationalities and is seeing a rising demand for luxury homes. The real-estate market, which is flourishing and experiencing continuous growth, is inseparable from quality, luxury and service. All challenges to which the Groupe Marzocco is particularly pleased to meet.
Principal projects
NOUVEAU CENTRE HOSPITALIER PRINCESSE GRACE (socle),

Monaco

2028

Construction

2024

Development / Construction

2015

Development / Construction

2013

Construction

2013

Construction

2013

Construction

2012

Renovation

LES JARDINS D'APOLLINE,

Monaco

2012

Construction

PALAZZO LEONARDO (Renovation partielle),

Monaco

2010

Renovation

2010

Renovation

2010

Development / Renovation

2009

Renovation

VILLA LES GAUMATES,

Monaco

2009

Development / Construction

2009

Development / Construction

2008

Renovation

RÉSIDENCE LE COUNTRY,

France

2008

Development / Construction

2007

Renovation

RÉSIDENCE PARCO WINTER,

Italie

2006

Construction

2005

Construction

VILLA LA FIORENTINA,

France

2005

Renovation

2005

Development / Renovation

VILLA LES BRUYÈRES,

Monaco

2004

Renovation

VILLA MARIE-ANTOINETTE,

Monaco

2002

Renovation

2001

Renovation

CENTRO COMMERCIALE ASTRA,

Italie

2001

Development

2000

Renovation

VILLA PAUL MARCEL,

France

2000

Renovation

VILLA SANTA-NARCISSA,

France

2000

Renovation

RÉSIDENCE PLEINE MER,

France

2000

Development / Construction

RÉSIDENCE CAP EST,

France

2000

Development / Construction

1999

Development / Construction

1997

Construction

1997

Development / Construction

VILLA LA CANTILÈNE,

France

1996

Renovation

COMPLESSO IMPERIAL,

Italie

1996

Development / Construction

1995

Construction

LES PRINCES (bureaux),

Monaco

1995

Development / Renovation

MINISTÈRE D'ÉTAT (surélévation),

Monaco

1992

Construction

1992

Development / Construction

1991

Construction

1991

Development / Renovation

1990

Construction

RÉSIDENCE JOLANDA,

Italie

1990

Development / Renovation

RÉSIDENCE SPLENDID,

Italie

1990

Development / Renovation

1989

Development / Construction

1985

Development / Construction

1985

Development / Construction

RÉSIDENCE PORTOSOLE,

Italie

1985

Development / Construction

MICHELANGELO / BOTTICELLI / DONATELLO,

Monaco

1983

Development / Construction

LES PINS ENSOLEILLÉS,

France

1982

Construction

1981

Development / Construction