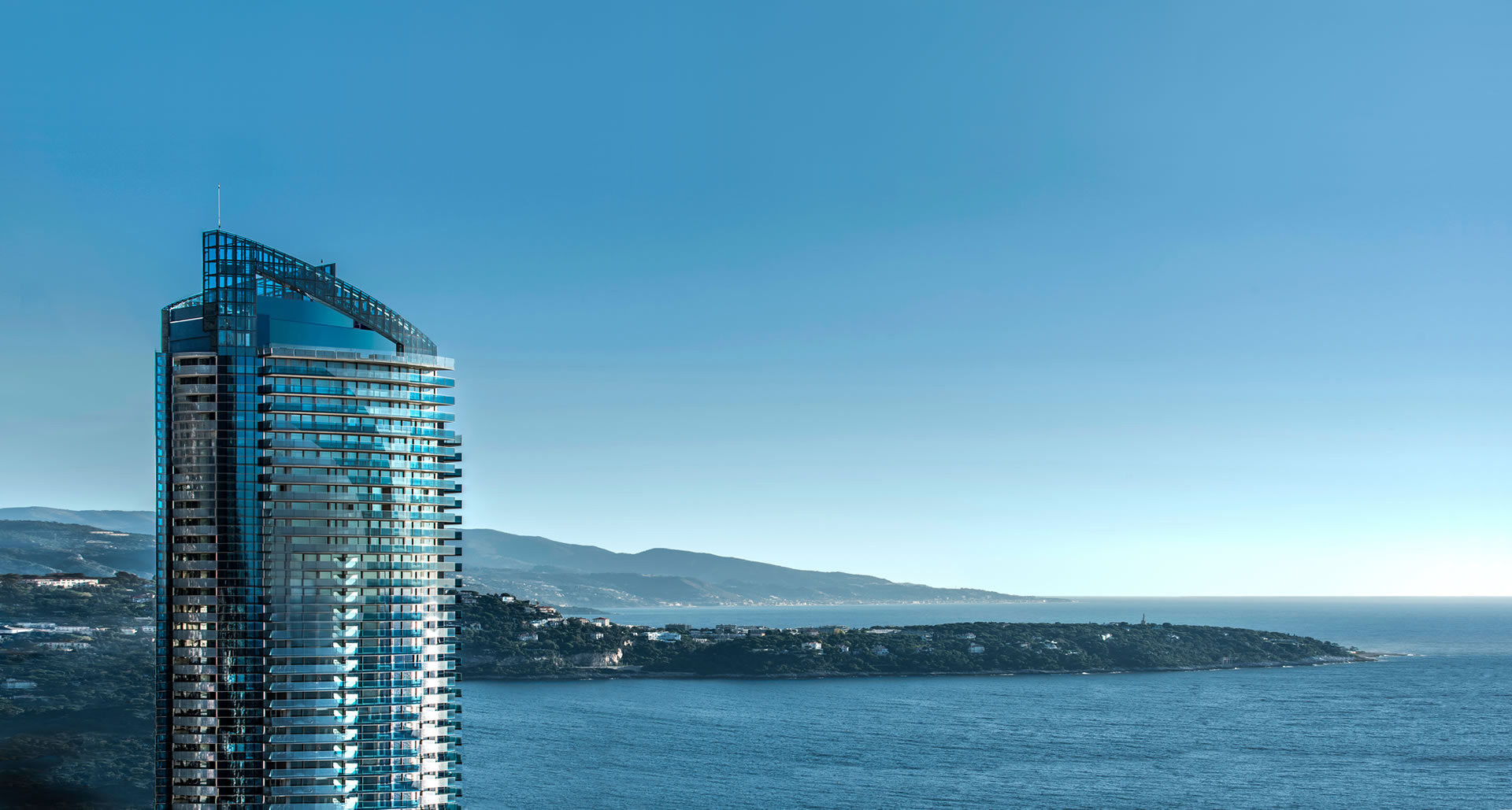 tour
odéon
Tour Odéon, the summit of luxury
The Tour Odéon's 170 meters touch the Monaco sky like an architectural star. It is the Principality's highest building, a slender, sculptural work, all lightness and transparency, which blends wonderfully into the Mediterranean blue.
Tour Odéon, an incomparable symbol of Monaco living
Tour Odéon was designed in a spirit of absolute luxury by the Groupe Marzocco, the luxury real-estate specialist for over 30 years; Vinci Construction, one of the world leaders in construction and civil engineering; architect Alexandre Giraldi, a master of Belle Époque style; and Cabinet Alberto Pinto, which designed, among other prestigious projects, the interiors of luxury London hotel, The Lanesborough. Artist Yann Kersal was commissioned to create the lighting, while SATRI was also involved in the development of certain interiors and the sumptuous penthouse. Construction began in 2009 and, by the time the first apartments were delivered in 2015, had brought together 1,400 workers. Spectacular and refined, Tour Odéon is 49 floors, between sea and sky, 60 three- to seven-room apartments, two sky duplexes of 1,200m2, and an exceptional three-floor penthouse of 3,500m2 with a private swimming pool.
" Designed in a spirit of absolute luxury, Tour Odéon brings together the azure of the sea and the sky. "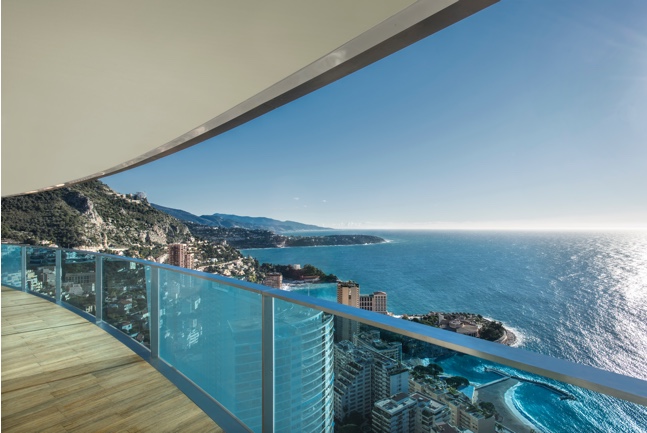 Interior design by Cabinet Alberto Pinto
Eclectic and elegant, Pinto style is synonymous with luxury. Each of Cabinet Alberto Pinto's designs reflects his incomparable eye for detail – a talent he shares with the Groupe Marzocco. In the Tour Odéon, their common vision is reflected in haute-couture interiors, in which different influences blend to create a tailor-made atmosphere. Alberto Pinto was as interested in volumes, space and light, as he was in which materials would bring each apartment that extra touch of the exceptional.
Unprecedented premium services
Breathtaking 360º views, high picture windows, a sense of functionality, sophisticated decoration, and precious and noble materials are joined by services worthy of a luxury hotel. This unique blend of remarkable architecture and an exceptional concierge service is a first. Available 24/7, Golden Services offers practical help such as reservations and car service, as well as tailor-made, on-demand services.
Residents also have access to a business centre, a meeting room, a screening room, a bar, billiards, and a kitchen for both business and pleasure.
To complete this feeling of well-being, Odéon Spa is 1,800m2 designed as a haven of peace and quiet, a perfect place to refresh and relax. The heated pool, steam bath, sauna, Russian baths, Jacuzzis and a bar guarantee a unique experience. On the first floor, care treatments use Valmont products, while massages are delivered in three individual cabins or a private, two-person suite with sauna and Jacuzzi. A hair and beauty salon completes the offer. On the second level, the fitness centre is equipped with cutting-edge Technogym equipment for weight training, cardio training and spinning. A private room with a personal coach can also be reserved.
L'Odéon Café by Cipriani offers lunch, dinner services and catering. Managed by the team behind iconic restaurant Cipriani Monte-Carlo, L'Odéon Café shares the exquisite Italian touch that has made that establishment such a legend. This exceptional building and its unique services were born from a desire to create a new symbol for Monaco, an emblem of a visionary and futuristic spirit by the Mediterranean. The contemporary and luxurious Tour Odéon is perfectly in tune with the Principality's soul.
For further information please contact the Tour Odeon marketing suite on +377 99 99 41 00, email [javascript protected email address] or visit www.odeon.mc.